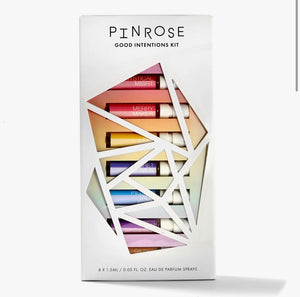 Discover 8 uplifting scents in this best-selling eau de parfum collection created from an elegant blend of clean, naturally sourced botanicals and designed to inspire a unique good intention.

Scents Included: Wild Child, Mystical Misfit, Merry Maker, Sun Saint, Secret Genius, Pillowtalk Poet, Lil' Dipper, Gilded Fox
What is Intention Scenting: Intention Scenting is the pairing of a fragrance with an intention. An "intention" is a mindful commitment to yourself. In this kit, we paired 8 positive intentions with our fragrances using aromatherapy. Each scent is meant to help you recall an intention. All Pinrose perfumes are free from toxins, parabens and animal products, always.
8 x 1.5mL / 0.05 fl. oz. eau de parfum sprays